Details

Written by

Super User

Category: Home page
Hits: 28087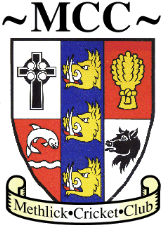 Methlick Cricket Club
On behalf of our President, Lady Aberdeen, and the members and players of Methlick CC, welcome to the start of another season of cricket in Methlick.
With only a few weeks until the action starts, Lairds will shortly start coming to life. Nets to be put up, seed to be sown and the first cuts of grass will shortly take place. You may have noticed the new scoring hut being built which is now ready. Winter nets for the juniors has been taking place every Sunday morning on the MUGA and has been so well attended (considering it's outdoors and it's Winter!) with an age group of 5 to 18. If any youngsters are interested in learning the game please feel free to come along at 1100.
For the adults we are looking at two friendlies in April including the Brigg's Bowl, courtesy of ex- chairman Nigel Briggs, which is an inter-club opener and a very sociable affair with a barbecue post game at the Ythan View. The two teams play for a trophy and the honour of opening a nice bottle of malt donated by Nigel. This match  is open to anyone that wants to take part, regardless of ability, and is a great way to meet the members and players of MCC, and kicks of the cricket year for us.
The season proper begins 30th April with the fixtures yet to be confirmed. Practice traditionally starts when the clocks go forward at 6 pm on Wednesdays. We have two senior teams and the Juniors. We also run a badminton club and our latest venture ,MCCMCC, which is a hill walking section. The only rule here being that the walk has to finish at a pub.
As the year progresses I will keep you updated and events we organise and progress of the teams through match reports.
If anybody wants further information on the club and what we do please contact me on 07702 830464 or This email address is being protected from spambots. You need JavaScript enabled to view it. or speak to Jay at the Ythan View.
We look forward to a great year ahead and welcome anyone that wants to be involved in the friendliest club in the Shires.
Best wishes
Mark
Chairman 
Details

Written by

Super User

Category: Home page
Hits: 39611
Welcome to Methlick Cricket Club for the 2023 season.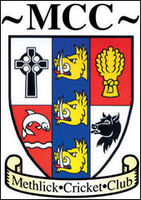 The Methlick Cricket Club welcomes all to our club. 
Our website will be updated with the list of games for the 1XI and the 2XI teams for 2023, after last years success with our first team who gained top position in Grade 3, the club will have two teams in Grade 2 and Grade 3 this season.           
Situated in Methlick in the county of Aberdeenshire, our ground is one of the most picturesque grounds in the Aberdeenshire Grades Association (ACA), more details on our ground can be found in "About Us".
We strive to provide the highest possible standard of facilities to players and spectators of all ages and abilities, to play and watch the game and without bias and discrimination.
Currently, we have two teams that compete on Saturdays and Sundays the latter for Cup games, in the Aberdeenshire Cricket Association at Grade 2 & 3 respectively.
In previous years we have had junior training on Tuesday evenings and last year junior training on Sunday mornings, and it is our aim to continue once registration formalities have been completed, queries to our Youth Membership: Playing and Non-Playing contact below.
For further details about membership, please contact one of the following;
Adult Membership: Playing and Non-Playing
This email address is being protected from spambots. You need JavaScript enabled to view it.
Youth Membership: Playing and Non-Playing
This email address is being protected from spambots. You need JavaScript enabled to view it.
Any difficulties please email
This email address is being protected from spambots. You need JavaScript enabled to view it.    
Queries concerning creating a membership account on this website please email.
This email address is being protected from spambots. You need JavaScript enabled to view it.  
Details

Written by

Super User

Category: About us
Hits: 21450
Methlick Cricket Club
The Methlick cricket club and ground Lairds as seen today. The club began in 2003 so this is the Twentieth-year Methlick has had a Cricket club. Although it was initially without a ground, we were kindly offered the opportunity to play our home games at other cricket venues. Take a look at our history page, an article written by Charlie Allan that describes the construction of our ground Lairds, this would not have been achievable without the kind permission and offer of the land by Lord Aberdeen.
The ground takes a considerable amount of care and hard work to keep it in its prime condition, the club owes the groundsman, who originally was the late Denis Pratt, followed by Charlie Coulson and Neil Purdie, now our head groundsman Neil Grant has taken over the reins, and is proving a great asset to the club, our gratitude for all their and others efforts and time involved throughout the seasons they have been involved keeping the ground in immaculate condition.
Lairds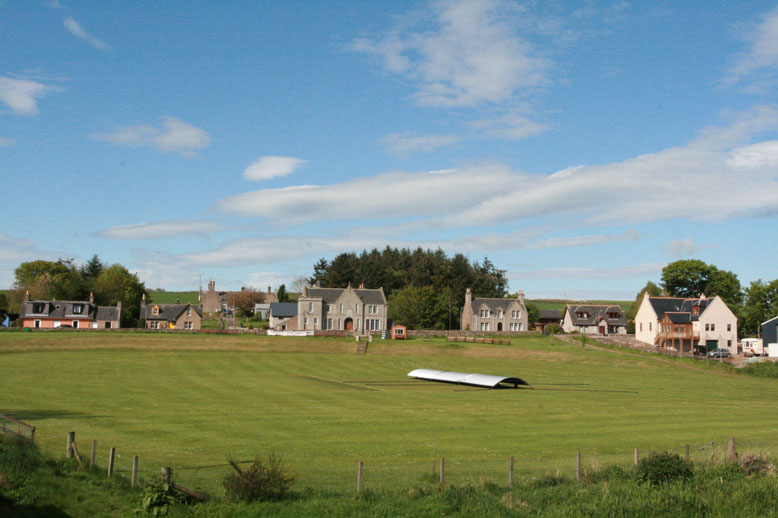 Map and Directions
To reach Methlick the main routes from Ellon, Oldmeldrum, Fyvie, and New Deer can be reached via the B9005 and B9170 roads.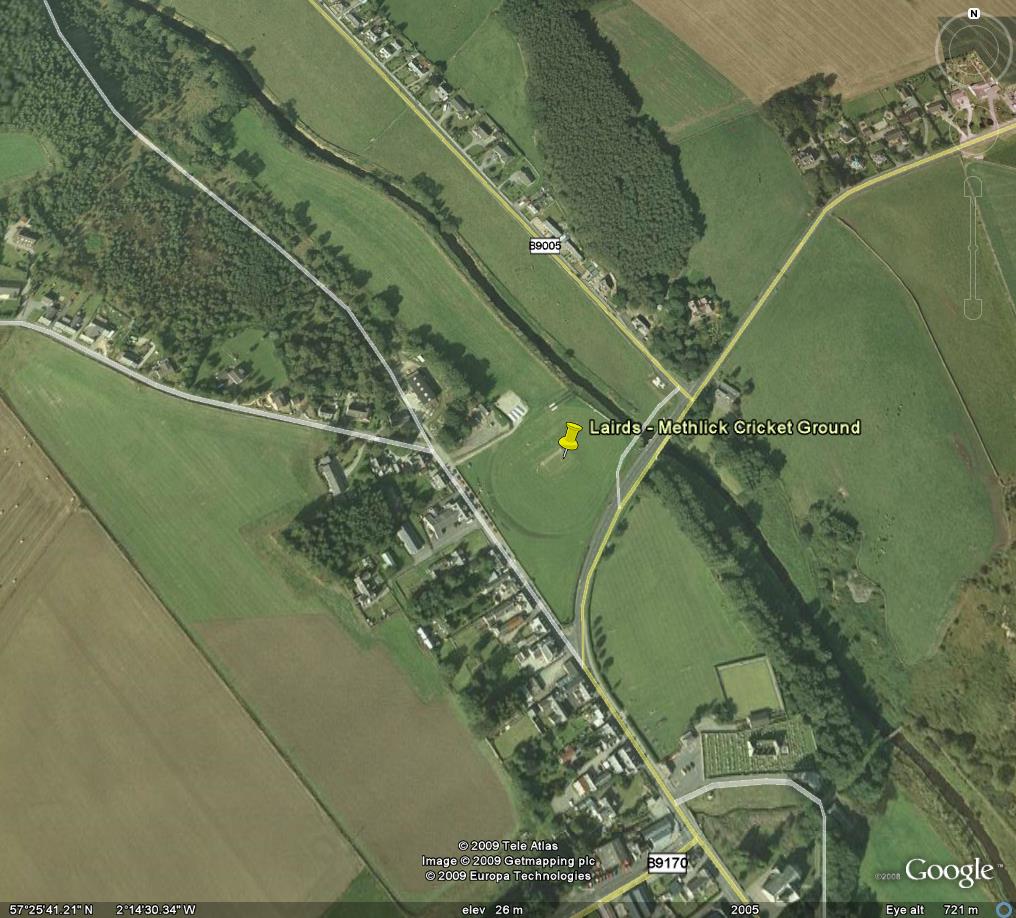 Details

Written by

Super User

Category: Games
Hits: 467
Briggs Bowl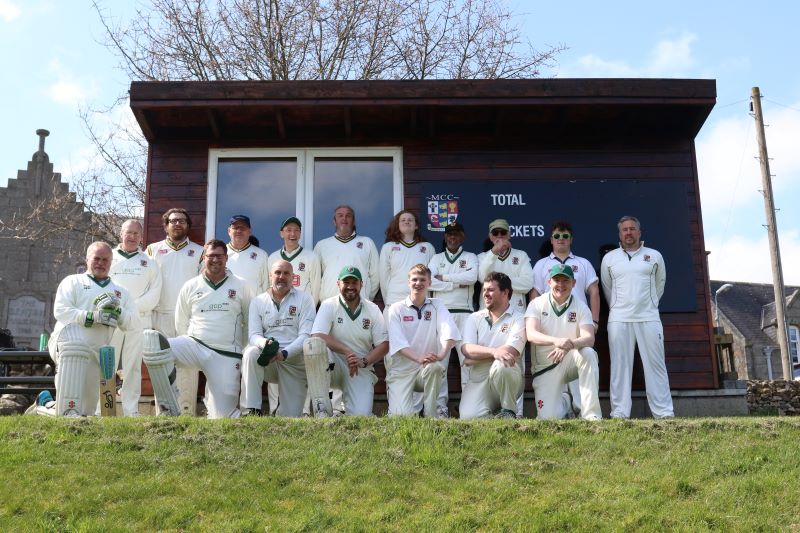 A new season is upon us again. Methlick had our annual inter club Brigg's Bowl on Saturday. A report is below (I'm having problems with Word at the moment so can only send text).
Saturday saw the season's opener for Methlick as the two captains competed for the annual Brigg's Bowl. A sunny but chilly day was only possible with the great work of the ground staff in getting a very damp Lairds in a fit condition for a game on grass.
Tim Duffy used his experience in picking a team based on playing abilities rather than Lewis Crutchfield going for his mates and youth. The Duffy X1 was put into bat on a ground not looking to provide a run-fest. Controversy reigned as Serafimoski claimed a very spurious catch to remove opener Woodhouse.
Adam Veersema and Jamie Jones both retired on 30 giving the rest of the line-up much needed practice, Farmer Addison hitting a mighty 6 off his first ball and customarily being bowled next ball.
The Duffy X1 reached 115 off 30 overs which looked challenging given the conditions. The pick of the bowling was probably David Low taking 2 for 17.
In reply The Crutchfields lost an early wicket without runs on the board, and that shaped the innings with only Fergus Grant getting into double figures as the challengers were all out for 73.
Next week sees the start of the season proper with MCC 1st X1 travelling to Groat's Road and the 2nds at home to Gordonians. Interestingly MCC featured on River Walks on BBC1 on Monday evening with Paul Murton's exploration of the Ythan from it's source to the sea. Good to see national exposure for the greatest team in the north east.
Best regards
Mark
Details

Written by

Super User

Category: History page
Hits: 655
The Making of Lairds
By Charlie Allan
July 2004
In the summer of 2002 we had a series of meetings, set up a committee and adopted a constitution. The office bearers were as they are today with the exception of Geoff Harker who was the first treasurer. It is greatly to Harker's credit that he was the only one who seemed to realise the enormity of what we had taken on. He gave us a presentation with pie charts, flow charts on rolls of wall-paper which warned us of all the ramifications, all the pitfalls and all the expense that would be involved. Most thought all our treasurer had done was to shorten the winter. Charlie Allan told one meeting that, if we could get a field, a couple of thousand would make it fit for play. Geoff's estimate was £100,000. There is no doubt about who was nearer.
The first thing was to get a park. The Laird was all in favour and offered the one across the road from his "Methlick Wood" development, or the Butcher's Park which had once held the cattle which awaited slaughter at what is now John Cooper's house. The Butchers Park was chosen despite being by far the more difficult site. If we had known then what we know now we might have been down at Gurgedyke today.
Colin Presly, the farmer of Wardford, agreed to sell his tenancy at a fair rate calculated by the factor Mark Andrew. The rent was set at a dram per annum (as I write we are behind with the rent for 2004) and we had a field. But we certainly didn't have a pitch.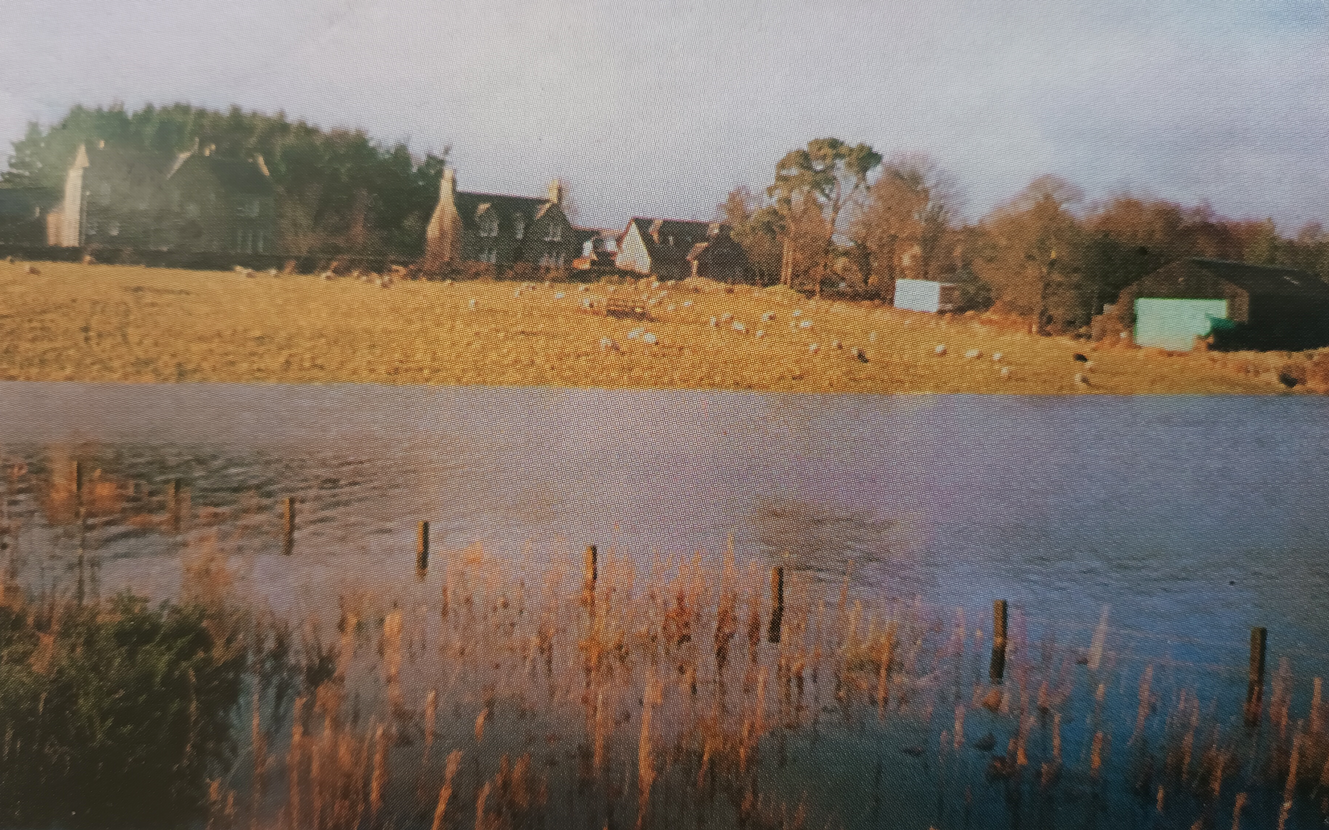 The Butcher's park after rain in October 2002
Alan Low prepared drawings, planning permission was obtained and estimates for making the park into a thing fit for cricket ranged to £184,000. And that was just the start. We had got the bit between our teeth now and the local soil being at the root of Scotland's failure in international cricket because it is too soft, we went for importing the loam from the best quarry in England at a cost of £5000. Peter Johnston from New Deer gave us an estimate of about £30,000 but said that it would likely be less. Ho,Ho, Ho. He started on January 8th 2003. The shingle we were going to load onto lorries to cart off turned out to be solid rock. The only hope was heavy machinery. CJ Dalgarno, Roger Taylor and Les Taylor provided it and all hell broke out in the village.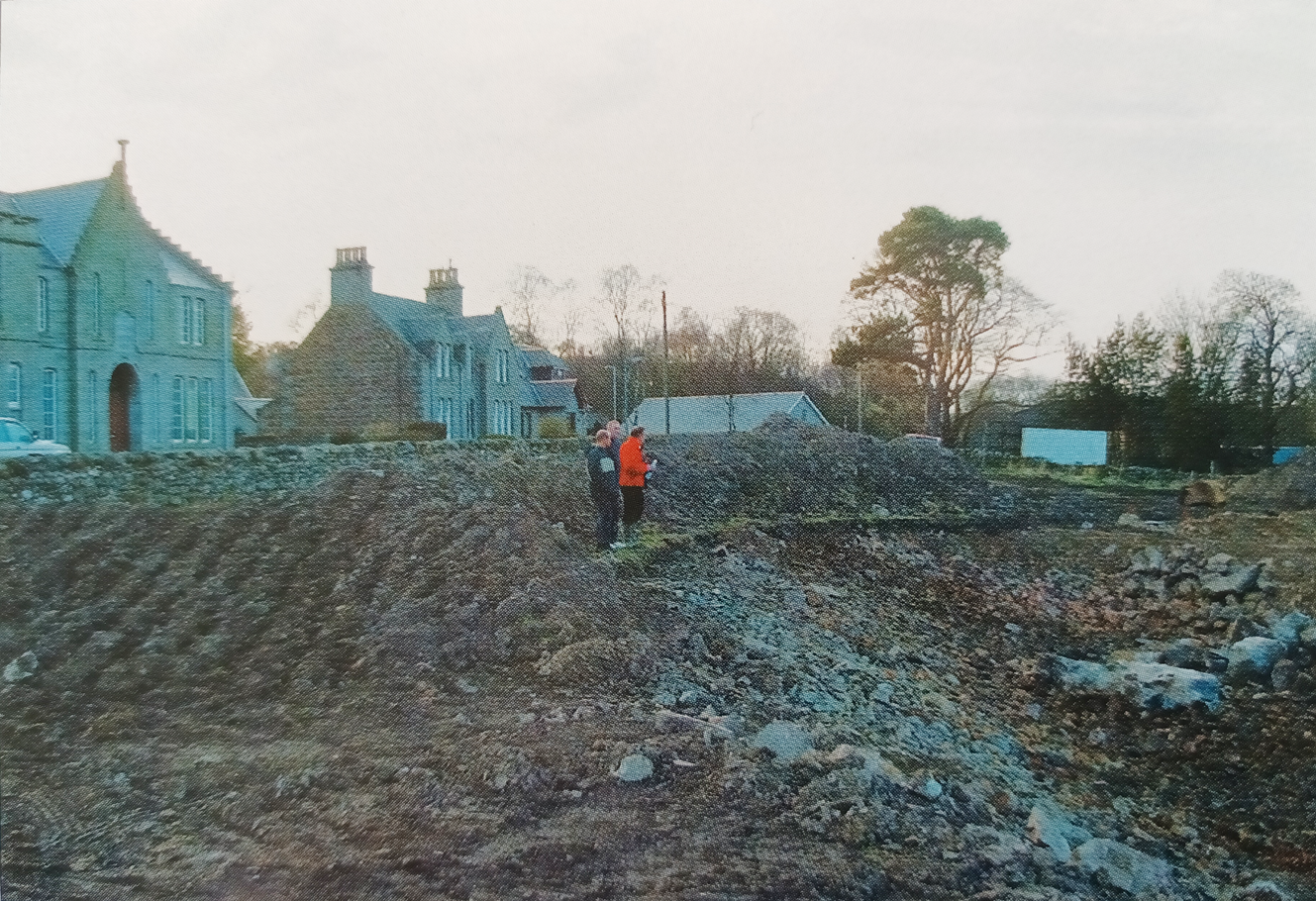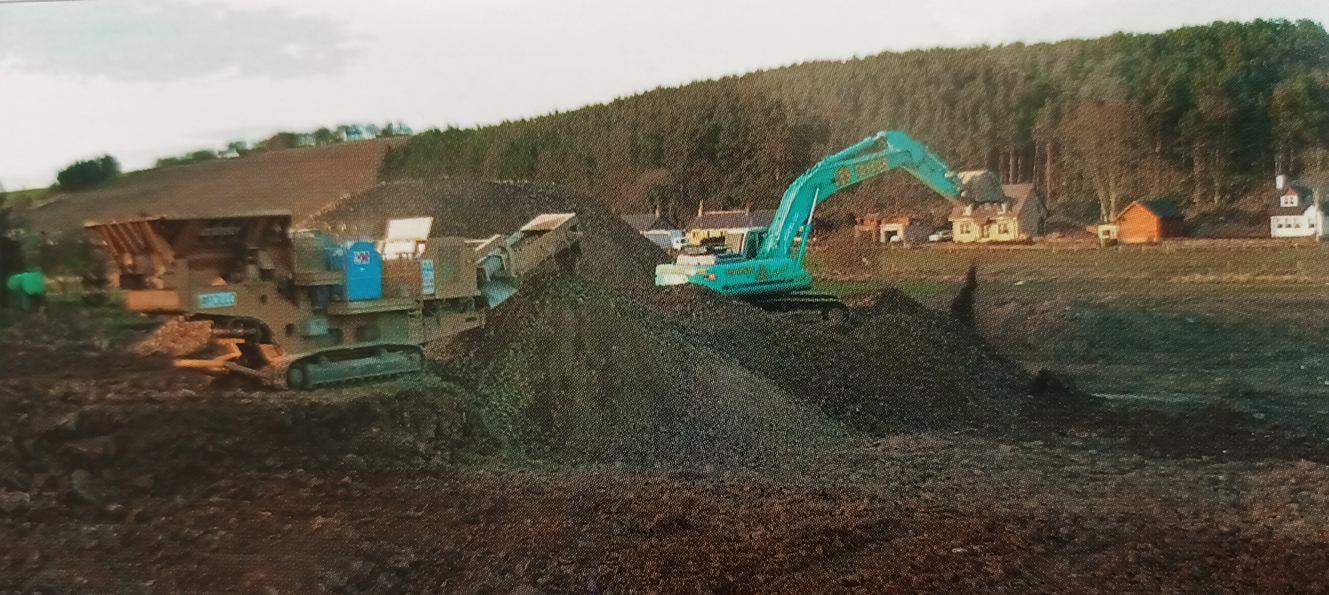 Support in the village was not unanimous. The chairman had sleepness nights. One Monday he had the police as well as officials from Sepa and two local authority departments after him all at once. There was dubs on the road and stew in the air, as well as the noise of the crusher and the bleeping of the diggers in reverse. He felt like saying, "feels and bairns shouldna see a job half done" or reminding them that you canna mak an omelet without brakkin eggs. But he bit his tongue and apologised...and apologised again.
The wicket was laid in July 2003. Squads of up to seventeen volunteers, not all of them interested in cricket, turned out with their rakes and buckets to take off the stones.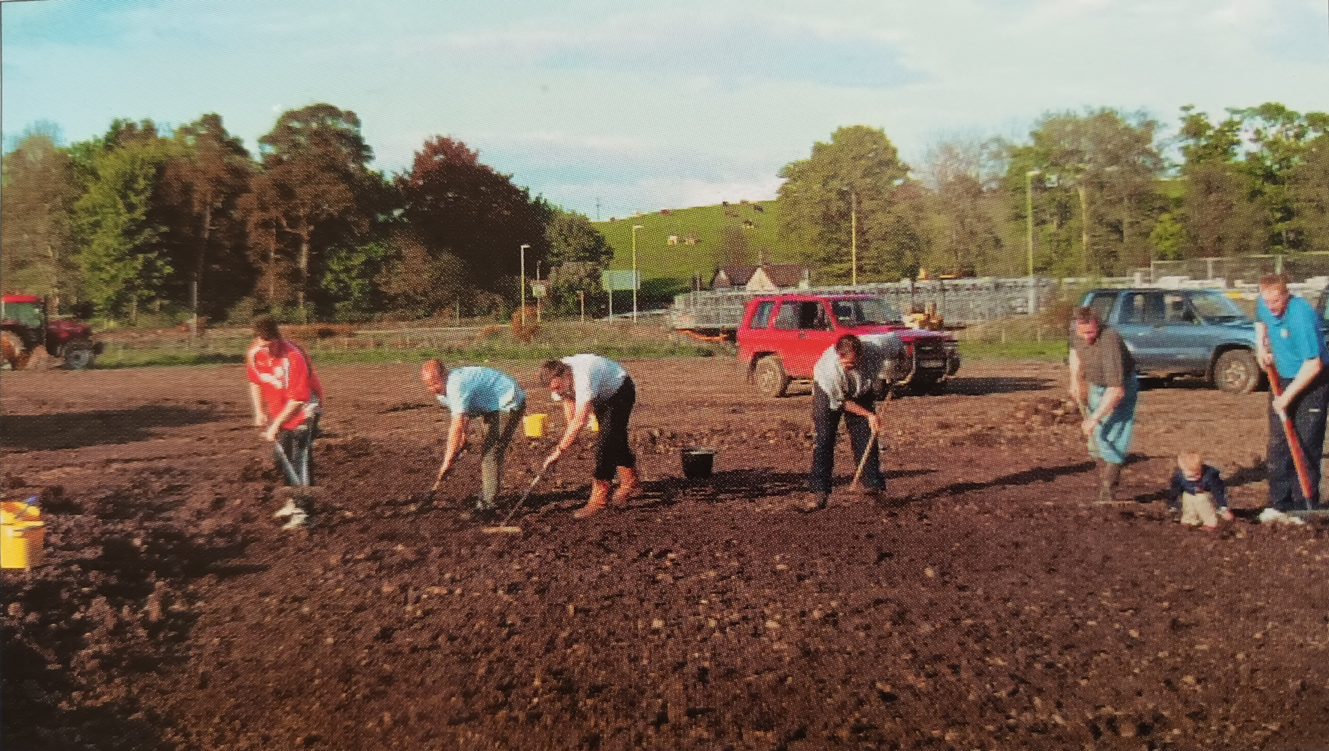 A lot of people helped but I must mention five farmers. Ernie Lee for his help with advice, tractors, diggers, manure and an introduction to the Campmuir people who have seen us through our first season with excellent mowers, well maintained.  And Stephen Mackie introduced us to financial backers including Dundas Brothers, the Snowies and through them, Pattersons, who not only put £18,000 of landfill tax our way but rounded it up nicely out of their own pockets. Neil Purdie provided tractors, quad bikes and negotiating skills. And John Catto, tractors and even bent his back. I must also mention Mossie who provided top advice on everything.